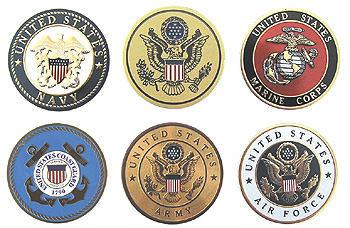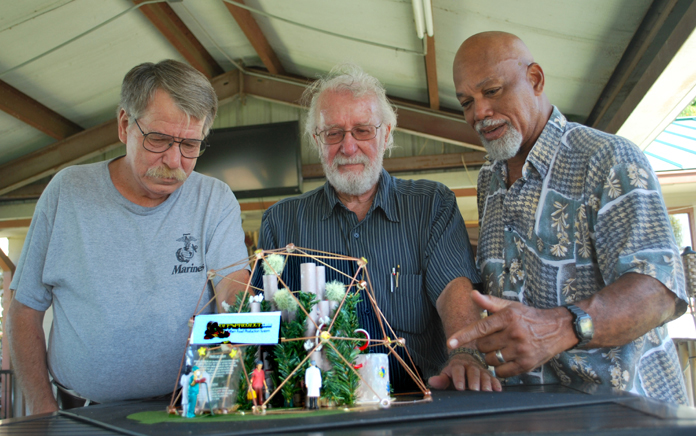 TO APPLY FOR PARTICIPATION IN THIS PROJECT
OR POTENTIAL GRANT SUPPORT
OR DETAILS ON HOW TO BUILD YOUR OWN SYSTEM
EMAIL VETERANSURBANFARMING@GMAIL.COM
http://www.myfoxorlando.com/story/23663300/urban-farming-to-help-disabled-veterans#ixzz2hNTWaIxM
ORLANDO, Fla. (WOFL FOX 35 ORLANDO) -
Visitors to Disabled Veterans of America Chapter 16 on
West Central Blvd. will find a gardening experiment out back.
Charlie Brantley designed what some believe could be an
elaborate agricultural system. It's a departure by the Air
Force veteran who hopes to help wounded warriors of all ages.

"I used to design weapons, so this becomes sort of a neat
diversion is what we say," Brantley said as he explained
how a collection of wire towers—stacked with fruit and
vegetable plants-- could allow disabled veterans to grow
crops in small spaces.

"It's just changing the surface are making it so a guy can
get around it," Brantley said.

The towers use very little soil and a trickle-down watering
system to grow the plants in a small space.

The system is a variation on hydroponic gardening—
which has long been used to allow urban gardeners to
grow plants without soil.

Brantley and a handful of other veterans are installing
the towers one by one at places where veterans gather.

They hope that the project will grow large enough to
require veterans to be employed minding the systems—
or at least allow them to grow food at home.

A not-for-profit organization has agreed to build the
system for veterans across the country.
Anyone-veteran or not- can get a system of their own
of interested in giving the system to a veteran will find
more information at www.veteransurbanfarming.com.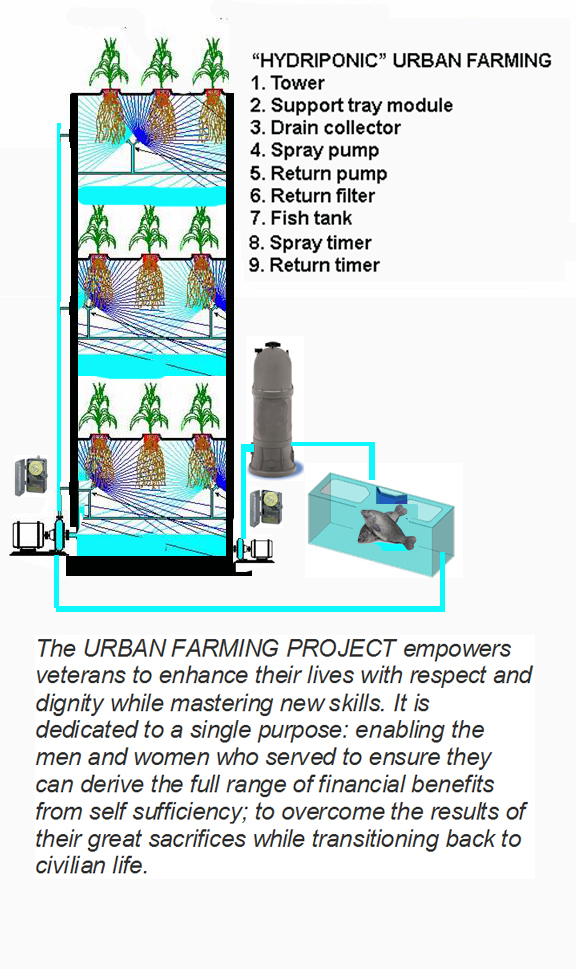 MISSION STATEMENT AND PROJECT DESCRIPTION
SUMMARY
The Veterans Urban Project captures the spirit and motivation of men and women who, through physical mobility limitations or age, find it difficult to survive in today's economy. The project, sponsored by the nonprofit Emerging Growth and Hope Foundation, applies a combination of training in "Hydriponic" agriculture, basic construction of the "farming" enclosure, and marketing skills for the sale of true organic produce through a cooperative..
1.0 INTRODUCTION
The concept and premises of hydroponic urban farming are gaining increased popularity due to limited construction and upkeep costs, growing focus on safe, natural foods and, most importantly in this case, the Nation's commitment to assist Veterans in finding meaningful employment.
1.1 This paper explains the recruitment of Veterans to participate in the project, materials required to construct the "Dome" structure, and daily operational procedures to ensure healthy plant growth and subsequent harvesting for personal or market consumption.
2.0 Recruitment of Veterans
The nonprofit nature of the Emerging Growth Institute and Hope Foundation facilitates "buy-in" by Government Agencies, Veterans organizations, and a populace fueled to contribute to a worthwhile cause. Some examples are:
· Veterans Medical Facilities
· Organizations such as the Veterans of Foreign Wars, American Legion, AMVETs and independently chartered Veterans Organizations, including all branches of Service.
2.1 The role of positive media cannot be underplayed. Good news stories and accounts of personal sacrifice are normally reported accurately and with reverence. The project managers for the Urban Farming Project have embarked on an aggressive media campaign to enlighten the viewing audience and attract Veteran candidates.
3.0 Construction Materials
Complete details for construction components are contained in Appendix A. However, one must first understand the concept.
3.1 The structure size can be as small as four meters in width or as large as 40 meters in width. The height of the structure will average three to four meters. At this point, size becomes a matter of owner preference.
3.2 The dome construction allows the free-standing structure to withstand moderate wind gusts because it does have not a flat vertical wall. The floor space is constructed with gravel, overlaid with concrete mixture to provide a stable walking area for disabled Veterans.
3.3 A reliable water supply will be required, since nutrients for the produce is provide by natural fish waste (hydroponic fertilizer). Fish are fed a special diet free of carcinogens, and provide fertility not available in most land-based agriculture due to overuse, pesticides, and fertilizers.
3.4 The maturation of produce depends upon the type of plants and whether they are started with seeds or purchased and transplanted. The Dome "Grow House" has been demonstrated to produce a harvestable crop in approximately seven to eight weeks. Continued replanting of harvested crops ensures a continuous stream of produce.
SUMMARY
The purpose of this White Paper and its presenter is to encourage your support as United States Military Leaders to assist disabled and aging Veterans in feeding their families, creating an independent revenue stream, and follow the founding tenants of a healthy lifestyle.
Appendix A contains complete details. For further information, please contact the Emerging Growth Institute at 407-880-7919.